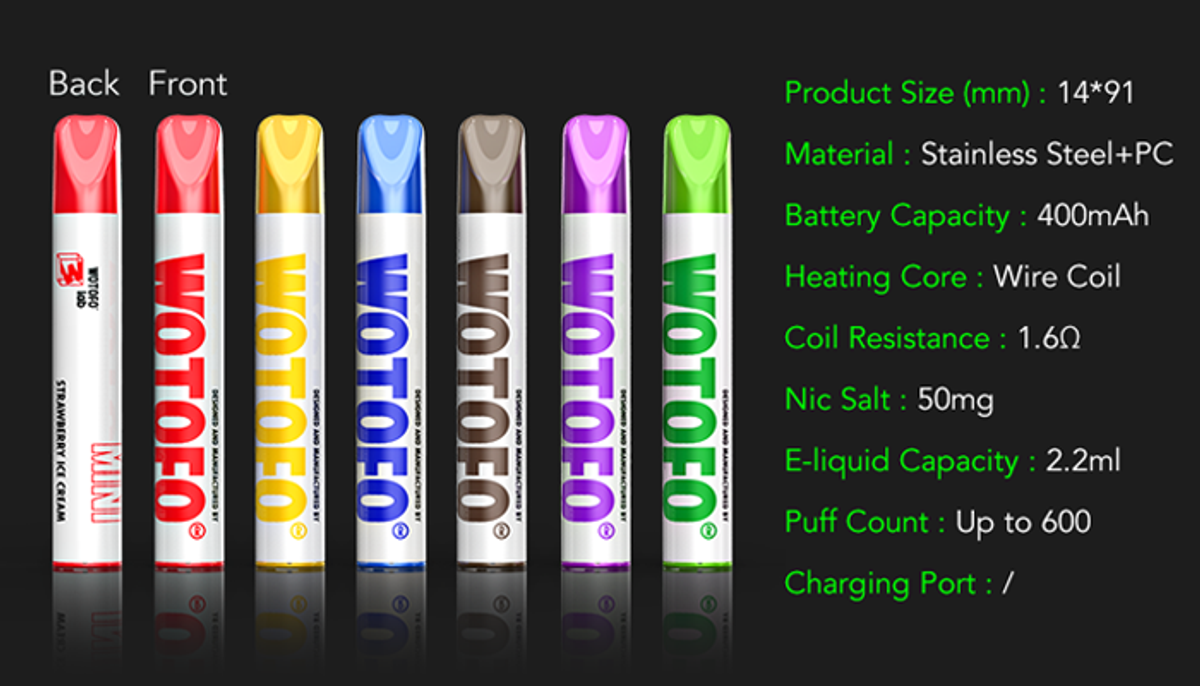 The Wotofo Mini Vape Pen
Compact But Powerful Vaping Experience With A Variety Of Tropical Flavors
Are you looking for the convenience and cost-effectiveness of disposable vaping devices without compromising on an excellent and flavorful vaping experience? We bring you the best of both worlds with the Wotofo Mini Vape Pen.
When you think of a nimble and compact vape pen, many people often assume that it means a lackluster performance that will leave you desiring for that slightly better performance so that you can get a satiating and flavorful hit.
The Wotofo Mini Vape Pen finally makes it possible for you to experience the sheer brilliance of a top-notch vaping device that delivers an excellent flavor without leaving you wanting more. The Wotofo Mini Vape Pen is a slim but powerful vape pen made using high-quality stainless steel and polycarbonate with several finishes that give it an elegant look and feel.
The Wotofo Mini Vape Pen packs a lot of power with its 400 mAh battery capacity, combined with a balanced resistance rating of 1.6 Ohms through its wire coil heating core to deliver up to an impressive 600 highly flavorful puffs. We have also developed a line of flavors specifically suited to cater to a variety of vaping enthusiasts who chase quality and cost-effectiveness to give you an option of 12 different flavors with such a small device!
What You Will Love About The Wotofo Mini Vape Pen
As a leading brand in the vape industry, Wotofo is always committed to delivering the best performance and overall experience that will satisfy you. The Wotofo Mini Vape Pen is nimble, tiny, elegant, and convenient in every sense of the word when it comes to vape pens. If you are looking for a disposable vape device that can deliver a decent performance, and a selection of flavors with excellent vapor production, without adding any unnecessary bulk or expenses, the Wotofo Mini Vape Pen is the way to go.
At Wotofo, we wanted to deliver a high-quality vaping experience to all our customers, including those who want to enjoy the quality we bring without an advanced device that requires plenty of maintenance. The Wotofo Mini Vape Pen is a culmination of our R&D and manufacturing team's efforts to live up to your expectations of a top-notch vaping experience with the convenience of a low-cost device. Here's a look at some of the things that you will love about the Wotofo Mini Prefilled Vape Pen.
Nimble and Compact
Slim, sleek, and elegant, the Wotofo Mini Vape Pen has a diameter of just 14 mm and a 91 mm length, making it ideal for convenient storage in your pocket or bag on the move.
Diverse Range of Flavors
The wide range of flavors available with the Wotofo Mini Vape Pen includes:
Strawberry Banana Ice
Strawberry Ice Cream
Mango Peach Ice
Blueberry Raspberry Ice
Pineapple Coconut
Grape Ice
Mint
True to our word, we cater to all our customers, no matter their flavor preferences. The 2.2 ml e-liquid capacity ensures that you can enjoy any of these fantastic flavors without having to compromise on the experience due to limited flavor options.
Power-Packed Performance
An impressive 400 mAh battery capacity combines with the 1.6 Ohm resistance rating for its wire coil to deliver a flavorful performance. The low resistance rating and decent battery capacity let you enjoy decent vapor production with each puff and can deliver up to 600 flavorful hits with the Wotofo Mini Vape Pen.
Specifications:
Product Size: 14 mm * 91 mm
Battery Capacity: 400 mAh
E-Liquid Capacity: 2.2 ml
Puff Count: Up to 600
Heating Core: Wire Coil
Coil Resistance: 1.6 Ohms
Nicotine Salt: 50 mg
Material: Stainless Steel and PC
Charging Port: N/A