Nasty Fix disposable device is a pre-filled disposable vape kit from Nasty Juice. Powered by a 280mAh built-in battery, these simple to use pod devices are ideal for vapers of all experience levels, particularly those switching from smoking. Providing ultimate low maintenance, the Nasty Fix device is pre-filled with a 20mg salt nicotine blend and delivers approximately 300 puffs.
Hassle-Free & easy to use

No charging

No refilling

Compact & light

Same great taste and satisfaction

Convenient and stylish

2% (20mg) nicotine strength

Powered by 280mah battery

Contains 1.3ml of Nasty Salts e-liquid

Delivers approx 300 puffs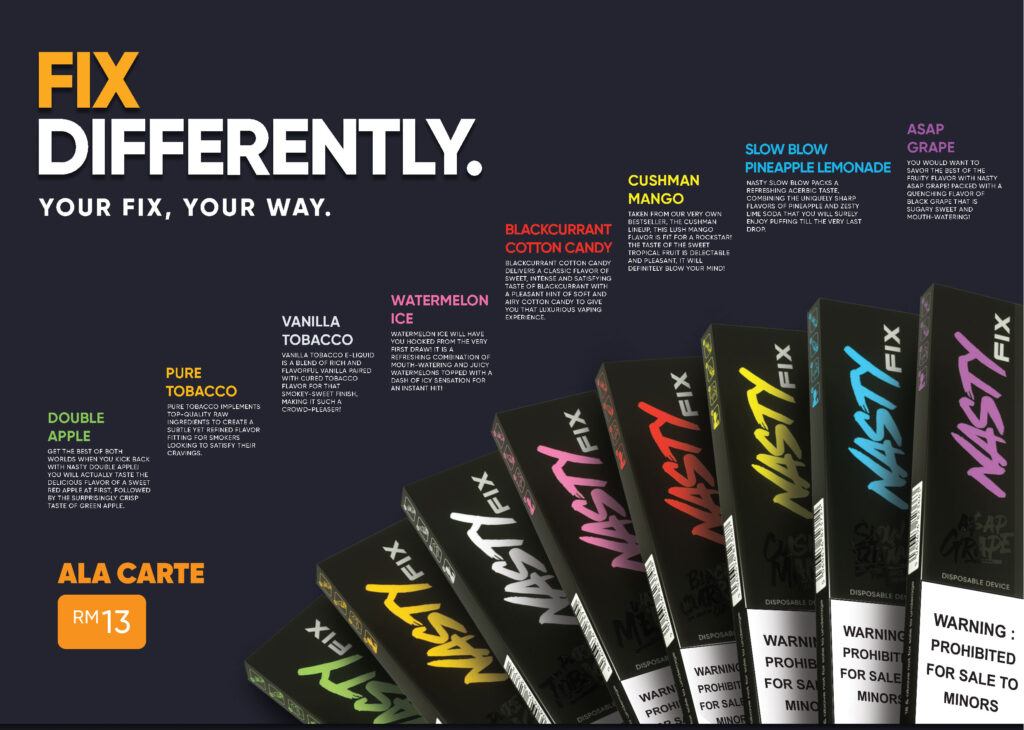 Offering a pocket-friendly design, the Nasty Fix device is one of the easiest devices to use on the market. From the box, simply inhale on the mouthpiece to get started and once consumed, dispose and replace. Delivering a MTL (Mouth To Lung) inhale, a 20mg salt nicotine blend provides a smooth throat hit with a fast absorption of nicotine.
Each disposable device comes 100% ready to go, straight out of the box. With these devices, you don't have to worry about refilling your juice, charging the device, or literally anything else. Just use the nasty fix until it runs out of juice. Once the juice is gone, the device is done with – just toss it out and pick up a new one! It really can't be any simpler than that.
Another bonus is that these disposable units offer a remarkably similar experience to smoking. While many experienced vapers opt for more complex and customizable vape options, the disposable device will often play an important role in the transition from smoking to vaping.
Whether you're a beginner looking to give up smoking or a vaping veteran picking up some easy-to-use portable e-cigarettes, you'll find exactly what you're looking for right here. We carry the leading disposable vape systems from NASTY.